I am honored and grateful to work for the citizens of Butte, Clark, Fremont and Jefferson counties. We are finishing up with House bills. This year, because YOU are engaged, more good proposals by individuals are being heard and passed. However, leadership was not willing to allow the Grocery Tax Bill to be presented for a vote so far this year. Those of us who believe it is the right thing for Idahoans will work with a new governor to reverse this tax next year.
I continue to work on the Island Park wildlife overpass issue. Those who support this colossal waste of our road and bridge money are funding ads about collisions with wildlife in Island Park. Cost-effective less intrusive measures will keep the beauty and access possible for local residents and visitors passing through the area.
I have been watching H496 which would move three Director positions from leaving at the pleasure of the respective Boards to leaving at the pleasure of the Governor. This involves the director of Parks and Rec and would possibly change our agreement with the Harriman family and Harriman State Park. It has been held in General Orders, which means changes were proposed (namely pulling the IDPR director appointment from the bill). I think because many of YOU contacted your legislators, it was determined this proposal needs more scrutiny.
We have worked on some weighty measures this week. H585, the Firearms and Domestic Violence bill, would have made it illegal for a person convicted of misdemeanor domestic violence to possess, own, or purchase a firearm for 2 years. The debate on the House floor included questioning the Constitutionality of taking away an individual's 2nd Amendment right because of a misdemeanor—the Idaho Constitution Art. I Sect. 11 holds it can be only be taken for a felony. Additionally, judges need some discretion in determining sentencing, and in many cases this would only extend forfeiture of gun rights for a few months. A question about the definitions of "confiscation" and "threat" were raised. Something as minor as shouting threatening words or the grabbing of an arm or wrist could result in conviction. These are among the reasons for failure of this bill, NOT because anyone doesn't care about domestic violence.
The "Trespass bill" H658, originally H536, has passed the House Agriculture committee and will be introduced on the full House floor soon. This has been a subject of vigorous debate. I have received many form letters in opposition to passage. It is important to read the bill, as much of the statute has just been rearranged in a more organized way. It is time for landowners to get some relief from onerous requirements entailed in current law. Many agricultural entities that are supportive of this bill have helped in crafting and updating our trespass laws, including Idaho Farm Bureau.  This legislation strengthens Idaho's private property rights protections by harmonizing definitions, with Fish & Game code for example, across key sections that protect property rights. This will ensure that property rights laws are more easily understood by landowners, the public and law enforcement. The bill eliminates inconsistencies in criminal and civil penalties and augments certain penalties. The bill also enables expanded educational programs to ensure that property owners' rights as well as citizens' responsibilities are well understood.
Wolf Depredation
In Agriculture committee, a presentation was made on wolf depredation by Todd Grimm of Idaho Wildlife Services. We were shown how wolves run cows to death and then just leave them—wolves don't even eat them! The accompanying images show how much damage is done to cattle, sheep and even dogs. Wolves kill many more animals than other local predators, also pictured here. I have the slide presentation—if you are interested, please email me and I will send it to you!
S1312 allows people with mental disabilities to use a service dog more in line with the rules for others with physical disabilities. Two of the individuals who testified stopped afterward long enough so I could have a quick photo. As we were listening to testimony, a reference to "emotional support" animals was addressed and clarified. The link is below: do you think this is a little extreme or just funny?
Woman denied emotional support peacock on United flight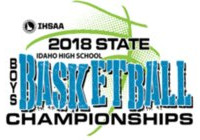 CONGRATULATIONS!
North Fremont High and Ririe High school boys played in state tournament here in Boise last weekend. I watched both teams and had fun cheering them on. Ririe took 2nd place, and North Fremont finished up just short in a close game. Great job to both teams!